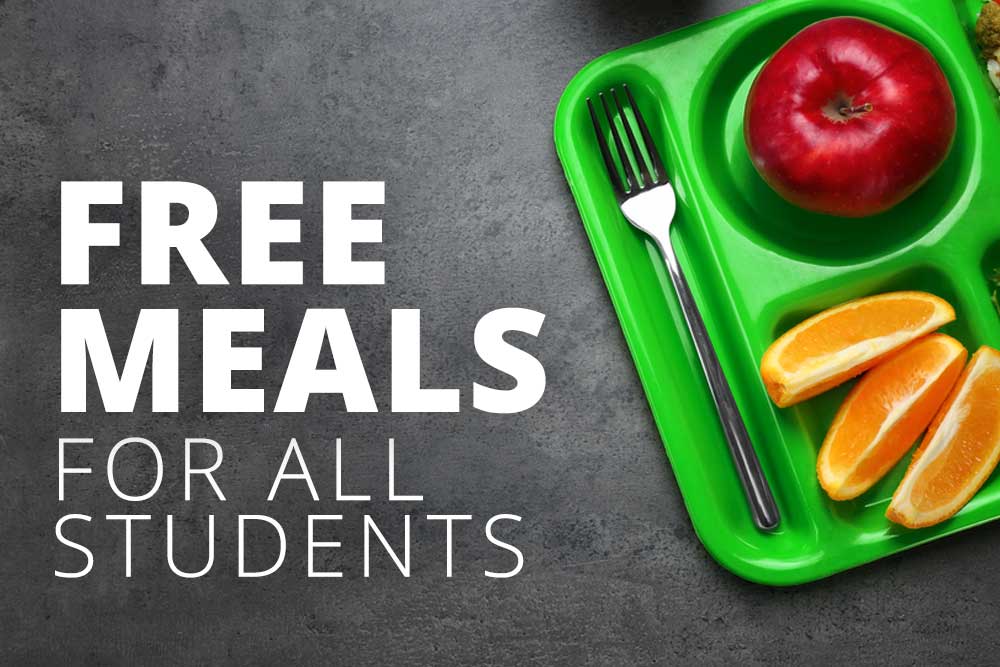 Community Eligibility Provision
Hemet USD will continue to participate in the Community Eligibility Provision (CEP) option for the 2021-22 School Year and offer each student a breakfast and a lunch at no charge.
CEP Letter to the Household- English
The CEP Letter to Household may be used for other program discounts; such as utilities & internet.
Click on the letter above and download a copy for your records.
Income Survey Information
Filling out the right paperwork matters, even though every student at your CEP school automatically is able to receive nutritious breakfast and lunch meals at no cost, having families complete the Income Survey helps determine the district's and your site's LCFF Supplemental Grant funding as well as your school's Title I ranking. By filling out the survey during registration, you help ensure that your student's school continues to get the full educational funding needed for your student's education, including computers, books, and school supplies.
The information submitted on the form is a confidential educational record and is therefore protected by all relevant federal and state privacy laws that pertain to educational records including, without limitation, the Family Educational Rights and Privacy Act of 1974 (FERPA), as amended (20 U.S.C. § 1232g; 34 CFR Part 99); Title 2, Division 4, Part 27, Chapter 6.5 of the California Education Code, beginning at Section 49060 et seq.; the California Information Practices Act (California Civil Code Section 1798 et seq.) and Article 1, Section 1 of the California Constitution.
Questions?
If we can be of any further assistance, please contact us at (951) 765-5100, ext. 5302. For more information about CEP, please click here USDA Community Eligibility Provision Information.
__________________________________________________________________________________________________________________
Provisión de Elegibilidad Comunitaria
El Distrito Unificado de Hemet continuará participando en la opción de Disposición de elegibilidad comunitaria (CEP) en el año escolar 2021-22 y ofrecerá a cada estudiante un desayuno y un almuerzo sin cargo.
La Carta CEP al Hogar se puede utilizar para otros descuentos de programas; como servicios de utilidades o internet.
Haga clic en la carte de arriba y guarde una copia para sus registros.
Información sobre la Encuesta de Ingresos
Llenar el papeleo correcto es importante, aunque todos los estudiantes de su escuela CEP automáticamente pueden recibir desayunos y almuerzos nutritivos sin costo, pedirle a nuestras familias que completen la Encuesta de ingresos ayuda a determinar los fondos de la subvención suplementaria LCFF del distrito y de su sitio, así como su clasificación del Título I de la escuela. Al completar la encuesta durante el registro, ayuda a garantizar que la escuela de su estudiante continúe recibiendo la financiación educativa completa necesaria para la educación de su estudiante, incluidas computadoras, libros y útiles escolares.
La información enviada en el formulario es un registro educativo confidencial y, por lo tanto, está protegida por todas las leyes de privacidad federales y estatales pertinentes que pertenecen a los registros educativos, incluida, entre otras, la Ley de Privacidad y Derechos Educativos de la Familia de 1974 (FERPA), según enmendada (20 USC § 1232g; 34 CFR Parte 99); Título 2, División 4, Parte 27, Capítulo 6.5 del Código de Educación de California, comenzando en la Sección 49060 et seq .; la Ley de Prácticas de Información de California (Sección 1798 y siguientes del Código Civil de California) y el Artículo 1, Sección 1 de la Constitución de California.
¿Preguntas?
Si podemos ofrecerle más ayuda, comuníquese con nosotros al (951) 765-5100, ext. 5302. Para obtener más información sobre el CEP, haga clic aquí USDA Community Eligibility Provision Information.
__________________________________________________________________________________________________________________
Community Eligibility Provision Schools / Escuelas de la Provision de Eligibilidad Comunitaria
| | | | | |
| --- | --- | --- | --- | --- |
| Acacia Middle School | Cottonwood School | Hamilton High School | Jacob Wiens Elementary | Tahquitz High School |
| Academy of Innovation K-12 | Dartmouth Middle School | Harmony Elementary | Little Lake Elementary | Valle Vista Elementary |
| Alessandro Continuation | Diamond Valley Middle School | Hemet Elementary | McSweeny Elementary | West Valley High School |
| Bautista Creek Elementary | Fruitvale Elementary | Hemet High School | Ramona Elementary | Whittier Elementary |
| Cawston Elementary | Hamilton Elementary | Idyllwild School | Rancho Viejo Middle School | Winchester Elementary |